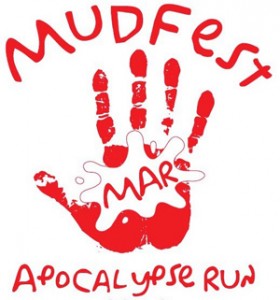 MAR stand for Mudfest Apocalypse Run.
This year there will be 3 race options:
-Family run (1 mile obstacle course)
-Individual 5 Km run + the 1 mile obstacle course
-Individual 10 km run + the 1 mile obstacle course
Register as a runner!
Register as a Volunteer to be a course marshal, zombie or other areas where you feel you could help. Thank you.
The family run will be an opportunity for you and your family to run the obstacle course. The 5Km run will be one lap around the St. Adolphe dike prior to the obstacle course. The 10Km run will be two laps and then the obstacle course.
When: Saturday Septeber 6th. Last minute registration will be 5pm-6pm and the race starts at 6pm.
Where
: St Adolphe, MB. From the city, take St. Mary's Road south:
google map
Just head south down the St Adolphe main street till you see the big MudFest sign pointing you west into the park (right after Darakeh).

Cost:
Early bird on-line registration $20 per family for the family run or $20 a person for each individual run. Registration on race-day from 5pm-6pm will be available but the price will increase to $25 for each race option.
Prizes: The top fastest runner for each race will receive a prize.
Dress: Runners are encouraged to dress up as in clothes that they don't mind getting dirty.
Important: Bring an extra set of cloths and footwear to change into.
Note: Individual runner registrants currently must be 18+. If you are under 18 and want to run, email us.
"Like" the Facebook page: http://www.facebook.com/MudFestApocalypseRun